From the Centropa Biographies - Ruth Halova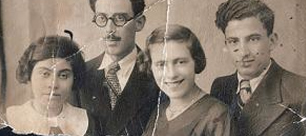 Country: Czech Republic
City: Holubov
Interviewer: Lenka Koprivova
Date of interview: July 2006 - March 2007
I'm originally from Cesky Krumlov, where in 1926 I was born to my parents, Leopold and Zdenka Adler, as their second child - my sister Eva was born five years earlier. Alas, shortly after I came into the world, Dad left it - during World War I he'd been a Legionnaire, and had traveled through Siberia with his unit. While crossing one mighty river, my dad refused to be taken across by boat - though as an officer he had the right to that, but he decided to swim across with his soldiers. That sealed his fate; he fell ill, and when I was ten months old, he died. So that she could support us, Mom worked at Spiro's factory as a secretary, which is why her mother, our self-sacrificing grandma Marie Kohnova, took care of the household.
At that time there were about 9,000 people living in Cesky Krumlov. About half of them would've been Czechs, and the other half German-speaking citizens of the Czechoslovak Republic. The town might have been located in the Sudetenland, but really, until Henlein [Henlein, Konrad (1898-1945): leader in the Sudeten German Party, member of the SS] came along and the Germans began with their 'Heim ins Reich,' we lived in peace. My friends were Czechs, Germans and Jews, and no one saw any problem in it.
The members of the Krumlov Jewish community represented an insignificant fraction of the entire population of 9,000, about one percent. Most of them were employees of the paper factory in Vetrni, whose owners, the Spiro family, were also Jews. We didn't have a rabbi, the one from Budejovice used to come see us, but we did have our own cantor, Mr. Karel Krebs. He was a nice young man, who was most likely from Hungary, and devoted very much of his time to young people. He taught us religion, put on plays with us, and so on.
The construction of the Krumlov synagogue was financed by the Spiro family, and I think that they were far from being bad employers. Besides building the synagogue, they also founded the Krumlov Jewish cemetery, and the Christian church in Vetrni. We lived in one apartment building that belonged to the factory. The building was divided into five apartments, and I remember that we even had subsidized electricity. This only applied to electricity from wall outlets, so we mostly used table lamps, and very rarely switched on the [main, ceiling] lights.
One fall day in 1938, I went to school as usual. I entered the classroom, sat down and began to take things out of my briefcase. But my classmates began chanting the slogan 'Juden raus!,' 'Jews out!,' so I stacked my things nicely back into my briefcase, and my Jewish friend Leo and I left the class. We were the only two Jews in the class. I remember telling him in front of the school: 'The worst thing about it is that now we'll stay dumb forever, as we can't count on any more education.'
I was in sekunda [second year of an eight-year high school, or Grade 6] when I was forced out of school. My sister was even worse off; she was in her last year. We spent the next few days at home, and couldn't even go out into the street - young Germans, the Hitlerjugend were marching around outside, and you wouldn't have met a decent person in the street. But my brave mother kept on going to work. One day, still at the beginning of September, she returned and said that we were to pack up some necessities, because we could no longer remain in Krumlov. She ordered a taxi, and sent us to Protivin, her hometown north of the Sudeten border. She herself remained in Krumlov, saying that she'd try to pack up our household.
In Prague I began attending school again, while my sister didn't continue her studies. She went to learn how to cook and bake pastries instead. I attended a school located on Namesti Jiriho z Podebrad [Jiri from Podebrady Square]; it's this large building, and is a school to this day. But soon my school attendance was once again interrupted - on 15th March 1939, a sign appeared on the school gates that there was to be no school until further notice. The Germans had arrived - Czechoslovakia was occupied. It was a cold, gray day, and the German tanks drew black lines on the snowy streets of Prague.
With the passage of time, my mom's face grew more and more serious. I don't know where, but somewhere she'd managed to find out that someone was helping Jewish children get into foster families in England. And so she took my sister and me to an office on Vorsilska Street to register us, then we stood in a long, long queue for passports, and on the last day of June I was leaving Wilson Station towards an unknown fate. I had the luck that one English family had decided to take me in. My sister also managed to get into England, and went in the following transport: in the last one to leave Czechoslovakia.
On 1st July we arrived in London. It was by coincidence my mother's birthday. Before our foster parents took us our separate ways, we were sitting in this large, green room, maybe a gym. We had name cards hanging around our necks, and I clearly remember my feelings, not so much of sadness or tragedy, but of absolute helplessness. This is how calves must feel, when they're separated from the nourishment and protection of their mothers, put in human hands and at the mercy of human beings, I said to myself. My young friends gradually disappeared, leaving with their new parents to their new foster homes, until finally a few of us for whom no one had come remained in that whole big room. You can imagine the anxiety we little pilgrims sitting on our suitcases felt.
When I was still back home in Czechoslovakia, I'd received a letter from the couple whom I was supposed to live with. So I knew that I was going to be living in Birmingham, with the Joneses. Unfortunately they didn't manage to pick me up in London, so a young man came over to us and said: 'Come along, young people, I'll take you to the train and your families will pick you up in Birmingham.' It was only years later, when I met him again, and knew who he was, that I realized that this young man had been Nicky Winton.
The Joneses were a very kind, older pair. They lived in the suburbs of Birmingham, where they ran a newsstand that also sold all sorts of sweets and ice cream. Aunt and Uncle, as I called them, were very kind to me, and used to give me as much ice cream as I wanted. Another consolation for me was that the Joneses had a female German shepherd named Peggy at home. I could speak Czech to her, and she was the only one that understood me, even if no one else did.
Even though I'd studied some English basics before departure, my knowledge was far from sufficient. And so I didn't understand Englishmen at all, and they didn't understand me. When the Joneses noticed how fond I was of Peggy, our home menagerie grew even bigger: a kitty and a parakeet joined it. Another person who tried to make my melding into the new environment as easy as possible was the butcher's helper from the store next door. We were about the same age, and whenever he noticed my tears, he sat me in the sidecar of his motorcycle amongst the sausages and meat, and drove me around. He was also my first English teacher, and my English soon came to resemble his. The problem was that he had a strong Birmingham accent, which of course I didn't know, so my style of speaking must have chafed sensitive ears.
When my first school year in England was drawing to a close, my compulsory school attendance was also drawing to a close. Was this to mean the end of my further education? I didn't want to accept the fact that for the rest of my life I'd be as dumb as I felt myself to be back then. The Joneses were planning to set up a little business for me in this little shop, where I'd sell cotton, wool and silk, and teach people to knit, crochet and embroider. I'd actually always liked handiwork, but the notion that all my life I'd just sit and embroider, or perhaps sell wool? Luckily, a solution was found.
The Joneses wouldn't have had the money to support me in some high school. Mrs. Evelyn Sturge managed to find the finances; she actually wasn't a Mrs., but an older unmarried lady, who used to visit us emigrant children from time to time to see how we were doing. Once she simply arrived, asked how things were, then stopped by at my school and then left again. A few days later a message arrived that I'm to move from Birmingham to Rugby, and that I'd be attending high school there!! It's very moving to recall a person who made this possible for me.
In Rugby I lived with the Cleaver family. The man was named Eric, the lady Phyllis, and they had two children, Russell and Rosemary. Later, when I was already leaving them, they had a second son, Marcus, whose diapers I helped iron while I was still there. And they also had a beautiful longhaired smoky-gray cat, Smoky. But despite everything, taking care of an emigrant child on top of their own children was a burden for an average wartime English family. We didn't go hungry, but food was rationed. And so it would happen that we emigrant children would be cared for by several families, and we'd shuttle back and forth between them. It was once every half-year or year, so not extremely often, but despite that, just when you finally got used to your new home, you'd have to move someplace else.
I lived like this with the Cleavers and Boags. Jack Boag was just 15 years older than I, and had married his wife Isabella shortly before I came to live with them. They lived in a gorgeous bungalow on the outskirts of Rugby, and the view from their dining room windows looked out over meadows and fields of ripe wheat. So that we could get our fill of that beautiful view, all three of us used to sit on the same side of the dining room table, and fed not only our bodies with food, but also our souls with beauty.
The town of Rugby lies not far from Coventry, and so when Coventry was subjected to destructive German air raids, Rugby had its share, too. It was always a very unpleasant experience, when German bombers were flying above our heads. Jack was a member of the fire department, and always when the air raid siren sounded, he'd take his safety helmet and flashlight, and go to work. In the meantime, Isabella and I would hide under the stairs to the attic, and knit scarves, gloves and socks for soldiers from scratchy khaki wool.
When, after several nighttime air raids, Coventry was almost razed to the ground, the Boags brought over an older married pair from Coventry and their mentally ill daughter, who'd lost the roof over their heads. Because that lady was bedridden, Jack and Isabella even gave them their bedroom. And this isn't the end of the list of new occupants of our house at that time. In England my sister Eva was attending a nursing school at the orthopedic hospital in Birmingham. At the time of the Coventry air raids, she was helping out at the Rugby hospital, and the Boags arranged for her to live with us, too; she shared my tiny little room with me.
The Boags, like Miss Sturge and Mr. Albright, were Quakers. But besides that, they were also Methodists, so on Sunday we'd go to both services, and there was nothing unusual about it. I didn't have any contact with anyone from Jewish society; no opportunity to do so even ever came up. I know that some rabbis reproached Nicky Winton for having Christian families raise Jewish children. Nicky's answer was something along the lines of that perhaps they prefer a dead Jewish child to a Jewish child being raised in a Christian family, but he certainly doesn't, and in that case they themselves should do something to save them.
I completed my studies at Rugby High School with an exam called the Oxford School Certificate. The Boags were moving to the country, and so once again I returned to the Cleavers. I of course tried to find work as soon as possible, so I wouldn't keep burdening their family budget. My priority was work in a laboratory; I sent an application to several dozen of them, but with no success. It was wartime, and state institutions weren't allowed to employ foreigners. And so I started working at a local drugstore.
When I was 17, I got the most beautiful birthday present. A letter from the Boags, who'd in the meantime moved from the country to London, and were writing me that I could again move in with them, and not only that: Jack was working at a hospital in Hammersmith, and had spoken with the head of the bacteriological department about me. They were urgently looking for a new employee for the bacteriological department just then, and the department head had decided to sidestep the law in my case, and give me the job!!! And I started working there, and was absolutely happy...
I hope I don't have to emphasize very much that I didn't have the smallest desire to leave the laboratory. I left, but nevertheless with a heavy heart for Llanwrtyd Wells in the fall of 1943, where, at a Czechoslovak high school of the boarding school type, I spent two years full of friendship, which I very much like to reminisce about. We were a varied group: most of the students were children from the children's transports, whose lives, like mine, had been saved by Nicholas Winton. Part of us were also children of soldiers and airmen who were serving in the British armed forces, or children of civil servants and high officials of the Czechoslovak government-in-exile. After two beautiful years, I graduated from there. It was May 1945, the end of the war.
We didn't have much information about what was happening at home. Despite that, we suspected that it wasn't anything nice. We were all living in uncertainty, as to what fate had befallen our loved ones, and to this day I remember the day when I found out about my mother. It was one of the most joyous days of my life. At the school they gave out mail during lunchtime in the cafeteria. One May day I received a postcard written in pencil and with the first Czechoslovak stamp in six years. It was from one family friend who'd returned to his homeland as a soldier right after Victory Day, and met my mother in the Jewish ghetto in Terezin.
My boldest hope had been fulfilled, my most fervent prayer had been answered. I lived through the next several weeks that separated me from my repatriation on 25th August and the subsequent reunion with my mother on the platform of the Usti nad Labem train station in some sort of trance, as if I was floating on a rose-colored fog of joy, and my feet were barely touching the ground. All I can clearly remember is that on that big day, I wanted to look my best, and wore a bright red beret, like Marshal Montgomery wore, which flew off my head and rolled along the platform right when I flew into my mom's arms. [Montgomery, Bernard (1887-1976): Field Marshal, nick-named 'Monty'; most well-known British general of WWII, best remembered for his victory at the Battle of El Alamein in 1942.] We met up in Usti nad Labem, which was more or less halfway between Prague and Teplice, where Mom was living after the war. At that time my sister was already at home, as a nurse she'd returned right after the war ended, and helped stop the typhus epidemic in Terezin.
What had been the fate of my family after I left for England? Mom and Grandma had to leave our Prague apartment and moved to some little closet on Kourimska Street, where they lived up until my mom's deportation to Terezin. Actually, almost all the members of my family were deported, except for Aunt Ida's family, who'd managed to immigrate in time to the United States, Uncle Hugo's family, who'd emigrated to Norway, and Grandma Marie Kohnova. Grandma died shortly after Mom's departure, probably from sorrow, in the Jewish hospital in Prague's Old Town. Alas, of those that went to Terezin, most also kept going, and so no one else from the family survived.