From the Centropa Biographies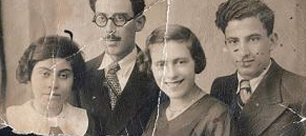 Hannah Fischer
Born 1925 in Vienna
Country: Austria
City: Vienna
Date of Interview: July 2004
Name of Interviewer: Tanja Eckstein
My parents met in 1923 at the 13th Zionist Congress in Karlsbad. My mother was attending the conference as a journalist, and my father as a Rabbi for the Jewish Religious Community in Vienna. He was responsible for sermons in many Viennese hospitals. My mother was already 34 years old, an employed woman who had already been working for a long time as a journalist. She was a very emancipated woman. She had advanced schooling, completed vocational training, studied stenography and typewriting, and later became a journalist.
My brother Rafael Erwin and I were born on 27 September 1925. My mother was a small, daintily built, but strong woman. For nine months she had two children in her belly, both of whom had normal birth weights. That was a surprise! We came into the world in the paediatric clinic in Glanzig, in the 19th district, through a caesarean section.
During our primary school years my brother and I would always go by foot – a long march – to the temple on Eitelbergergasse. The temple was destroyed during the pogrom in November 1938. Today there is a memorial plaque there. Ours was a kosher household, my mother separated dairy and meat products –we couldn't have had it any other way, on account of my father. Even from a very young age, my brother didn't adhere to it. He readily ate ham when he was visiting somewhere.  
I grew up in a non-Jewish neighbourhood. That's probably why anti-Semitism could be felt especially strong there. We had fun then, but we were also confronted with anti-Semitism very early on. We protected ourselves. My brother was good with his fists – well respected for his punch – I would also throw myself into the turmoil when necessary. We didn't really sense that the agitation against Jews was so bad, since it had been part of our lives from the very beginning. We had good friends who abided by us, but there were plenty of Nazi families in hour neighbourhood.
My father was a handsome man with thick, black hair. For as long as I knew him – that was up until he was 58 years old – he had full, black hair. I was told that his hair was white after he was released from his yearlong imprisonment at Dachau. He only wore 'religious attire' when he was working, apart from that you didn't see him as a rabbi. He was certainly not an orthodox rabbi; otherwise he wouldn't have been able to handle my mother's independence. An orthodox man would never allow it. Of course my father prayed every day, but I rarely saw him do it.
After my parent's divorce my mother continued to work as an independent journalist. She was very politically active; she was a communist.
After primary school, in 1935, we took the high-school entrance exams at Schuhmeier-Platz in the 16th district. One had to take entrance exams then. I passed the exam with a 1 and my brother didn't pass at all. But I was also rejected because of a purported shortage of spots. Those were the Dollfuss years [Dollfuss, Engelbert [1892-1934]: Austrian Federal Chancellor in 1932, dictator in 1933, introduced austrofacsim] and they were clearly very anti-Semitic.
At that point my father said to me: 'Ok, then you'll go to the Chajes-Gymnasium.' That was the Jewish high school in the 20th district, on Staudinergasse. I cried my eyes out, since I didn't want to be sent to the orthodox. I had imagined that loud, religious Jews with payot [side-curls] would be walking around. As an employee of the Jewish Religious Community, it was no problem for my father to enrol me in the Chajes-Gymnasium.
Our teachers were outstanding experts and not all of them were orthodox, as I had imagined. There were orthodox students, and there was the religion teacher who was orthodox. By and large it was a regular school, except that we were off on Saturdays and had to go to school on Sundays. Something I of course found objectionable.
The time from March 1938 to the end of the school year is unforgettable. Those were my last months in Vienna before emigration. A lot of students, removed from other schools because they were Jewish, came to our school. I believe there were about 50 students to a class at this time. These children deeply impressed me. They were all very depressed, partly because they had never known that they were Jews. They often came from baptised families, were raised as Christians, and all of a sudden they were Jews. I'll never be able to forget it. The whole class took care of these children; we completely took them in. But there was already a feeling of decomposition; many knew that they were going to emigrate. For many students it was just a temporary school.
My father was arrested at the end of March 1938. They arrested and imprisoned him in the 20th district in a school on Karajangasse. Jews were collected there and deported to Dachau. My father was on the so-called 'Prominententransport' to the concentration camp Dachau on 1 April 1938.
My brother and I never saw our father again. By the time he was released from the concentration camp we were no longer in Austria. My father's letters from the concentration camp were a harrowing experience for us, since they would often read: Dear Liesl, dear children! Then a large section would be removed and then at the bottom: Greetings and kisses from your father, Bela. I can't imagine what my father could have written with full knowledge that he was in a concentration camp, what he hadn't been allowed to write.  
Our mother brought us to Westbahnhof. I can remember that even back then I knew exactly: I am coming back! I still have this feeling with me. We knew that our mother would follow in two or three weeks, but we didn't know that she had sent us earlier because she was afraid that war would break out and we would be lost. Many children had to go to England without their parents, and they never saw them again. Luckily we were not yet as wise as we are now. My mother had already cleared the apartment, taking no furniture, only bedding and other such things. She distributed our things amongst friends, since it was clear that if my father were released, he would not be allowed to enter the apartment.  My mother did come after us in two or three weeks after she left a permit for my father with the English embassy.
Maybe it was because of this permit that my father was released from Dachau, but as soon as he was back in Vienna again – that was in July or August 1939 – the British embassy didn't actually exist any more. Officially they were on vacation – as it was vacation time – but they didn't come back since war was now foreseeable. My father stayed in Budapest illegally for a time, but he was deported and returned to Vienna. In Vienna he lived with other Jews in a so-called 'Sammelwohnung' [collection falt]. Since Jews had their flats taken from them, many lived together in one. I think my father was in the 2nd district. In September 1940 he was successful in getting on one of four ships trying to reach Palestine illegally. The passengers were sailed around the Romanian harbour Tulcea on the Danube in three high-sea steamboats. Rather than the designated 150 passengers, there were – on the 'Atlantic' for example – 1,800 fleeing passengers. The journey was very dramatic. The crew went on strike, demanding more pay, so after more than three months my father reached the harbour at Haifa. After a short stay in the internment camp Atlit near Haifa, the British transported the refugees, who had just narrowly escaped death, by ship to Mauritius.
In London we were collected by the 'Jewish Committee for Refugee Children' and brought to Deal. Deal is a small city on the coast near Dover. There was a so-called children's home there that was overseen by a Mr Howard. Mr Howard was the director of a single-class 'hedge school.' He had a large house with a big garden. He lived in this house, which was called 'The Glack,' with his wife and two children and also took in refugee children whose parents had paid, and others, like us, who were sent by the committee. He made a big difference between the children with paying parents and the children from the committee. Those of us from the committee needed to help in the household and garden. The others were absolved of this duty. I washed linens, made beds, and helped in the kitchen from time to time; Rafael worked in the garden. That agitated us of course. Mr Howard was a very authoritarian personality. He took us along with him to school in order to demonstrate to us how he reigned over a flock of children. He would rap the children on the fingers in front of us to show us what happens if we don't comply. Mrs Howard was a somewhat friendlier woman who tried to meet our wishes – in regards to food, for example.  
There was also a dance class in the children's home that Mr Howard had arranged for the youth with a dance teacher. Since more boys than girls came, we girls needed to leave the home for dance class. We didn't want that, we were still too young. But the worst was when Mr Howard granted us the 'honour' and called upon us to dance. He was a heavy pipe-smoker and stank of smoke, and dancing with him is one my worst memories. That took away my desire to dance for the rest of my life.
In Vienna my brother had had no English lessons. I had learned English for three years and could communicate. My brother, who in England took the name Erwin since he was always called Ralf instead of Rafael, which annoyed him, remained silent for two months. He spoke German, but didn't say a single word in English. After two months he spoke perfect English.
Exactly at this time we went to the 'Central School,' which was the main school. My brother went to the boys' school and I went to the girls' school. At that time the English system was organized in such a way that much less was taught in the girls' school than in the boys' school. For example, girls didn't learn Algebra in mathematics, whereas Erwin was plagued with Algebra. But I could help him, since I had learned well in Vienna.
My German and History teacher, Miss Billings, took an interest in me and took me under her wing. She gave me books and, to this day, I still have some from her. Because of her, my stay there was much more bearable as we were unhappy in the home.
Our mother was in London, but she worked in a household and couldn't visit us. Of course we would moan about it in our letters to her, but it was no use, she couldn't have us with her, it would have been impossible.
On our thirteenth birthday my brother came to me and said: 'So Hannah, now were are 13, now I won't hit you anymore.'
After a year, our stay in Deal came to a dramatic end. One day my brother needed to help in the garden and something happened that wasn't to the satisfaction of Mr Howard, and so he took him to task. Mr Howard was cross and gave my brother a smack on the ear. We weren't used to anything like that. Mister Howard was a small man, and my brother, seemingly large and strong, hit back. In the end this event was a great fortune, as there were then legitimate grounds for why we should be quickly sent to London. However, that was the end of our life together as Rafael went to a home for boys and I to one for girls. Of course my mother spent her free afternoons with us. She would collect us from the homes and we'd go together for a bite to eat or a walk in the park, and then she'd bring us back.
For us kids, the acquisition of English was easy, but for older people, like our mother, it was a problem. Once, for example, my mother, my brother and I were out on the street. My mother was able to speak a little English and had learned more in the mean time, but we could speak it better of course. We were annoying her with profanities and she wanted us to stop and said to us with full conviction: 'Oh, pipe up!' That only added to our amusement. Amongst the emigrants there developed the so-called 'Emigranto.' It was a mixture of German and English, like, for example, the sentence: 'Ich hab schon meine Schule gechangt.' ['Gechangt' from the English 'changed' rather than the German 'gewechselt'– 'I have already changed my school']
Mrs Dr Gellner, a German and the director of the girls' home in London, had a mentally handicapped son. Michael couldn't go to school. I befriended him and began to give him lessons. That was the beginning of my pedagogical career. I decided to involve myself professionally with children, after I had given up my actual dream of becoming a doctor because of emigration. When I passed the entrance exam for a public school in Bristol – the Badminton School for Girls – and left London, I handed over Michael to my former Latin teacher in Vienna, Mrs Dr Klein-Löw, who had saved herself in 1939 by becoming a maid in London. She supported him further. In 1946 she went back to Vienna where she became a high school teacher and the director of a school in Florisdorf. She became a member of the SPÖ Party Directorate, a member of the SPÖ Central Committee, a member of the Vienna/Leopoldstadt neighbourhood branch of the SPÖ, was a school representative in Parliament, and we were friends until her death in 1986.
These 'Public Schools' are not 'public' schools, rather very expensive schools for the children of the well off. My school was a renowned and very progressive school. There were a number of emigrants, of whom I was the youngest. We had a lot of opportunities to play sport; there was a swimming pool, a tennis court, hockey pitches and much more. As the bombing of Bristol became too dangerous, the school was evacuated to a former hotel on the north coast of Devonshire in Lynmouth, a small fishing town. It was a very wild and very beautiful place. I remember that the hotel was near the coast and we would always look down to the sea; the slope to the sea was grown over with rhododendrons. I've never seen anything like it since – such a large sea of rhododendrons. We went for many walks there. These walks were organized in such a way that a student from one of the upper classes was responsible for a group of three to five students in one of the lower classes. We would often discuss politics, like for example about Hess [Hess, Rudolph (1933-1941): Nazi politician who flew to Scotland to negotiate peace with Great Britain], who had flown over England.  
On Sundays there was either church or a Quaker meeting. The Quakers collected in a large room; they didn't pray, instead someone suggested a theme. If it worked it would be taken up and talked about. It would always degenerate into a political discussion, which was of course not the intention of the host. I either went to these Quaker meetings, or I would go for a walk. There was nothing for Jews, since there were too few Jewish students.
At the beginning of June 1941 I already had my tests behind me and left school with the Cambridge School Certificate. If one had achieved a particular grade average, one would also receive the London School Certificate and could study both at Cambridge and in London. In 1946 the Ministry of Education in Vienna recognized my credentials as a certificate of qualification for university matriculation.
My brother was in the boys' school and attended for another year. Then he began with an apprenticeship as a precision mechanic in a large factory in London. The part of the factory where he worked was evacuated to Cheltenham, where he stayed for a rather long time. He attended evening classes and became an engineer. Afterwards he worked in a small factory in Wales and eventually became director. The war had already ended by then. In London he married Rosslyn, the daughter of a Jewish toy-maker, and after the wedding he worked in her father's factory. They had two sons, Lorenz and Robert, whom he once brought to Vienna to visit me after the war.
After her work as a maid, my mother worked as a hospital cook. She earned more there than in the household. She could do it because in Vienna she would set up a sort of large canteen during the Jewish holidays. After two years – she was already over fifty and the work was physically difficult – she got an office position. While she was working in the office, she rented a small flat. I lived with her there in London after I successfully finished school.
At the Jewish community I was told that I had the chance for a position in the household of 'gracious woman,' where I would learn everything one needs for the management of a good household. That was kilometres away from how I had imagined my future. I left the committee very depressed and ran into a friend of my mother's in the street. She said to me: 'Listen, I've heard that Anna Freud has opened a children's home in Hemsted and is looking for young caretakers. Why don't you go to her?' I had no idea who Anna Freud was, but children – that sounded good. So I looked through the telephone book and then went to 20 Maresfield Gardens, which was Anna Freud's address, and knocked on the door. A woman, obviously the maid, opened the door and said in her best English: 'Wat du yu wont' – through which I immediately knew that she wasn't English. She was Paula Fichtl from Salzburg, who had been a maid for the Freud family in Vienna. Although she wasn't Jewish, she emigrated with the Freud family. I said that I would like to speak with Miss Freud and was invited to return the next day. On the next day I was led through Anna Freud's library, which was also Sigmund Freud's library, her father. This library was a large room, rather dark with a few totems that he had acquired. He was interested in such things. Two women were sitting in the room, one of whom was Anna Freud, a very imposing figure with very interesting eyes, a long skirt, and traditional Austrian costume shoes. The other woman was Mrs Burlingham, a colleague and long-time friend of Anna Freud. Anna Freud conducted an interview with me about my family, my story, my education, and asked why I wanted to work with children. Mrs Burlingham remained silent and smiled at me encouragingly. After a two-hour conversation Anna Freud said that I should come to 5 Netherhall Gardens the following day. I would be taken on as a 'trainee' for work with the children at the home. I would be able to live in a house there and receive a bit of pocket money.
The home was financed by the American foundation 'Foster Parents Plan for War Children,' and every month Anna Freud needed to send a report about the work with the children, who ranged from infants to five-year-olds. At that time, children in England were sent to school after five years.
For over two years I worked and learned in the children's home. The personnel were organized in such a way that each department had a manager, under whom the 'trainees' worked. The majority of the children had parents who were without an apartment; they had perished or were bombed out. These homeless children then slept in a 'shelter' – and that was a catastrophe. They were often sick, collected and brought to the home. For older children, there was also a home in the country. The younger children were to stay in London because, Anna Freud said, these children still needed contact with their families even if it was very limited. This was at the time when planes were arriving every night; all the children needed to sleep below in the shelter. The older children in the country were spared from all that.
I experienced a lot in those years with Anna Freud. They were – based on Gorki, I used to say – 'my universities.' I learned more about children there than I did later in Vienna at the university. My mother would claim that my world was covered with diapers, because I was so absorbed in this work.
After about two years I looked for other work, since always being the youngest was beginning to irritate me. I was appreciated as a colleague, but wanted to finally manage my own group.
At first I went to a woman who had started something like a large family, but the methods she used weren't what I had imagined. Everything sounded quite good in theory, but looked completely different in practice. Then I had luck as nursery-school teacher in the Austrian kindergarten at the Austrian Centre. The TV-journalist Toni Spira, the singer Lena Rothstein, the mathematics professor Walter Fleischer and many other emigrant children went to this kindergarten. It was a fantastic group, and something became of all of them. Because of their background, many were extraordinarily talented; most of them had Jewish parents. As the Germans were shooting at London with V2-missiles, the kindergarten was evacuated to Scotland for a year. Scotland was very interesting for me. It was another landscape and the people were very nice to us.
During this time I was already a communist, but not a member, only a candidate. I wasn't a party member because I wasn't accepted. I was always in a group where much was discussed. Together we would read the history of the CPSU (Communist Party of the Soviet Union) and comment on it. My mother criticized the party and didn't agree with many things. For example, she didn't agree that it was said that Tolstoy was a traitor. She was also very critical of Stalin and believed that he had Kirov killed. She was also never accepted into the party. In the Austrian Centre we worked on plans for organizing remigration to Austria and were convinced that Austria was only waiting for us to return as quickly as possible.
Upon my return to Austria in September 1946, my mother relocated to my father in Palestine some months later. He lived in Petach Tikva and at that time already had a nursery and a small shop. He brought plants from Mauritius and was certainly happy to devote himself to this work. I don't exactly know if that was his life's dream – we never spoke about it – I also don't know if my father, after all of his experiences, ever again was the man that my mother had known. They lived together in Israel until 1952; he had his small flower shop and nursery, and she worked as a translator.
In 1947 I was hired as a nursery-school teacher by the city of Vienna. On the side I studied pedagogy, psychology, philosophy, and English at the University of Vienna, and completed my PhD in 1952.
Until 1957 I worked as a nursery-school teacher, then as a psychologist for the central children's home. At the beginning of the 60s I adopted my son, Franz Anton, who was living in this children's home. He was 1½ years old at the time and was born in Vienna on 2 March 1960. He works as a commercial clerk in Vienna.
I am a member of the Jewish Community, because I would never do that to my father: leave. Among other things, that is how I commemorate my father. Sometimes I go to temple – if something is being celebrated and I've been invited. I had faith as a child, but the Nazi years robbed me of my faith.