From the Centropa Biographies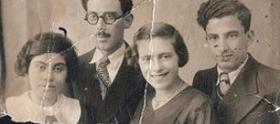 Lilli Tauber
Read the complete interview on centropa.org
Lilli Tauber
Country: Austria
City: Vienna
Date of Interview: July 2003
Interviewer: Tanja Eckstein
I was born on March 13th, 1927 in Rudolfinerhaus in Vienna's 19th district. My mother was already 42 years old when she got pregnant with me. I was a welcome surprise to the whole family, which was fairly big. My uncles and aunts were rather old at the time, and my cousins could have almost been my parents. I think they all enjoyed having me around. And my brother, who was 13 years older than me, loved me very much, too.
My name is Karoline Tauber, nee Schischa. Everyone calls me Lilli; no one knows that my real name is Karoline. I didn't even know myself until I started school. When I got registered at school they needed my birth certificate, and that's when I saw the name Karoline written down there. Nonetheless, I continued to be called Lilli.
We owned a house with a garden in Wiener Neustadt, which was quite luxurious for the standards back then. My mother was a housewife, and we also had a maid.
My father's family was very religious, but my father wasn't really that religious himself. He kept the shop open on Saturdays and even smoked on Saturdays. My mother, on the other hand, was very religious. They never had any arguments about that. She didn't wear a kerchief, but she kept a strict kosher household, we had separate dishes for dairy and meat products and special dishes for Pesach. Apart from that we celebrated all holidays such as Yom Kippur and Rosh Hashanah and held seder. I think my parents only had Jewish friends. I don't remember any acquaintances of ours who weren't Jewish.
We were five Jewish girls at primary school, and there were only two of us left at grammar school. During my school years I had two Jewish friends: Trude Gerstl and Susi Bauer. Trude Gerstl lives in Israel today. Ten days after I got my permit to emigrate to England [in 1938] I received a second permit. My father took it to the British Council and asked them to transfer it to my friend, Susi. They refused to do so, and she was murdered. [Susanne Bauer, born 14th July 1927, was deported to Wlodowa ghetto on 27 April 1942.]
I didn't experience any anti-Semitism until March 12th, 1938 [Anschluss]. I was 11 years old and attended the grammar school. Andrea, the daughter of a non-Jewish doctor, picked me up at my parents' place every morning, and we went to school together. Back then everyone went on foot; it wasn't a long walk anyway. We were good friends but after March 12th she stopped hanging out with me –from one day to the next. It was horrible for me; I was just a child and didn't understand why. As it turned out later she had brothers who had been Nazis illegally a long time before the Anschluss.
Everything changed. Our shop was aryanised, and my father was advised to sell our house. He did, but we were allowed to stay until he found a new home for us.
Sometimes there were people who tried to help us. The priest's cook, for instance, brought my grandmother fresh vegetables. However, there were also people who spit at my grandmother's feet; they were customers who had debts in my grandfather's shop.
This happened during the summer holidays. I was supposed to go back to school in September but I wasn't allowed to go to the regular grammar school any more. The Jewish community in Wiener Neustadt continued to exist a bit longer, and a school was set up in the prayer house, which was close to the big, beautiful synagogue. When I still went to grammar school our religious classes took place in the prayer house, which could be heated in winter.
I remember November 10th, 1938 [Kristallnacht] very well. It was a Thursday, the sky was cloudy and it was about 10am when someone came into the classroom and started whispering into our teacher's ear. Afterwards the teacher told us to go home, saying that something was going on. My parents were surprised that I returned from school so early. At about 11am the doorbell rang and the Gestapo arrested my father. They took him along with them.
They took us to the synagogue. All Jewish women and children from Wiener Neustadt had been brought there and were searched for money and jewellery. They had to hand in everything; the SA deprived them of all their belongings. Mrs Gerstl, my friend Trude's mother, didn't want to sign a paper saying that she would hand over her house, so they beat her until she did sign it. I witnessed all of this. At nightfall they led us into the synagogue. The floors were covered with hay and they gave us Torah blankets to cover ourselves up. We were locked in for three days. The synagogue had a yard with an iron gate facing the street. There were people outside the gate watching, and people from Wiener Neustadt looked on with amusement as we Jewish children had to go round in circles.
We never returned to our house; all our possessions had been stolen.
My father turned out to be in the police prison on Elisabeth promenade, where they had crammed all Jewish men that had been arrested. He later told us that it was horrible, and that there wasn't even enough room to sit down. Then they made their choice about who would be brought to Dachau, and who would be allowed to go home. My father and Uncle Adolf stood next to each other. My father was told that he could go home, my uncle was deported to Dachau concentration camp.
There was only one subject of conversation among Jews at the time: 'How do we get away from here?'
My brother fled to Palestine with an illegal transport in October 1938. After that I never saw him again. Traveling was expensive and we both didn't have enough money to travel after the war.
No one cared about school any more. Uncle Gottfried had connections with the Bnei Brit lodge, a Jewish social organisation. Bnei Brit means 'Children of the Covenant', and those lodges exit all across the globe. Back then they helped to save the lives of Jewish children. The procedure was such that someone had to guarantee that the child wouldn't be a burden to the British state. Children who had such a guarantee received a permit and were allowed to emigrate to England with a Kindertransport but without their parents. There were girls, boys and even babies in these Kindertransports - it's hard to imagine what it was like today.
I only realized how courageous my parents were later, when I already had children of my own. It must have been terrible for them to bring me to the railway station. I was excited back then and understood that it was better for me to go away. I wasn't angry with them for sending me away. At the time I didn't even think of the possibility that I may not see my parents again.
Each child had a red plate with a number put around its neck. A plate with the same number was put onto each child's suitcase. That's how I arrived in England. I didn't speak a single word of English. Three children from our convoy were dropped off at the train station in London and taken into a hostel from there. The hostel belonged to the Bnei Brit lodge, and there were mainly children from Germany there, so everyone just spoke German.
I had been raised religiously. Our superintendent in England was strictly orthodox and forced us to live an orthodox way. We weren't even allowed to brush our teeth on Saturday, and had to pray after every single meal. She was horrible. There was a girl called Lotte Levy, who came from a strictly orthodox family in Cologne. Her father was a shammash. However, due to the pressure of our superintendent she completely broke away from religion.
In August school started in England, or rather, one day we were just told that we had to go to school. It was a regular school and children were submitted to classes appropriate to their age. I was the only émigré in my class and didn't know a single word of English. It was horrible. First, everyone looked at me as if I was somehow spectacular. The teacher had probably explained to the other students who I was, but as I said, I didn't understand English. The teacher did her very best to teach me a little bit of English.
One or two weeks later the war began [1 September 1939]. We were sent to live in the country, in Cockley Cley, with a certain Lady Roberts. She belonged to the English landed aristocracy and wasn't Jewish. She was about 50 or 60 years old, very nice and concerned for our well-being. She knew what was happening to Jews and had enough money to help a lot of them. She owned a large plot of land and employed many farm workers who also lived there. It was a huge asparagus farm, and many people worked for Lady Roberts and lived on her estate.
There was no school in the village so all the children went to school in Swaffham, the nearest bigger city. Our teachers from London had come with us, and Lady Roberts arranged for a little cottage with two rooms to be transformed into classrooms. None of the teachers knew German, so I learned English pretty quickly.
When we moved to Lady Roberts' estate our cook came along. She was strictly kosher and got her own kitchen. Lady Roberts made sure that she would get kosher meat and so on. Lady Roberts received a certain amount of money for each child that she took on. She gave what remained from that amount to us, children, and we could use that money to go to the cinema.
Mr Harry Watts was Jewish and the owner of a barbershop in London. We all called him Uncle Harry. He was always there for us emigrant children and took care of us in a really touching way. He was a member of the Bnei Brit lodge. He took us on trips. I especially remember a trip to Brighton, a seaside resort. I wrote a letter to my parents in which I described in minute detail what I had seen, what the sea was like and where we stopped for a break. Uncle Harry bought clothes for us because we quickly grew out of our old clothes, and he also gave us pocket money. Once he came with a truck and brought us all new boots. We all loved him dearly.
My cousin, Selma Kastan [née Freudmann], had fled to Bolivia with her family, and her brother, Armin Freudmann, to Luxembourg. Both were neutral states, so my parents sent their letters to either Luxembourg or Bolivia, and I received their letters from there. One day that stopped because Luxembourg was occupied by the Germans. I received one or two more letters through the Red Cross and that was it.
In 1942 I was 15 years old and returned to London, where I lived in again in a hostel from the Bnei Brit lodge. I wanted to learn a profession. I had apprenticeship in a tailor's shop and became a dressmaker. I worked as a dressmaker in London until I returned to Austria.
I wasn't officially informed that my parents had been killed and always hoped that they would still live somewhere. I first learned about places like Auschwitz in 1944, at the time of Rosh Hashanah, when they spoke about it in the British Parliament. It crossed my mind back then that my parents might not be alive any more. My parents' life gradually became harder: As a qualified tailor, my father managed to earn some money in the beginning. He worked for the 'Damen und Herrenkleiderfabrik Richard Kassin' in Vienna's 1st district from September 4th, 1940 to February 21st, 1941. My parents were deported on February 26th, 1941. I don't know where they were murdered. I just know that they were brought to the Opole ghetto in Poland from Vienna on February 26th.
I own a large number of letters, which my parents wrote to Aunt Fany, Aunt Berta and my grandmother from the Opole ghetto before they were murdered. Aunt Berta gave me a little leather suitcase after the war, which included all the documents and letters she had collected before Aunt Fany and my grandmother were deported. That way all these valuable documents were preserved.
Apart from these letters, my father also sent photos from Opole ghetto. Opole was a village that had been sealed off. Jews who lived there weren't allowed to leave, and more and more Jews arrived. There was a bakery, a butcher's shop, a barbershop, restaurants and a photo shop, just like in any normal village. However, nothing could be brought into the ghetto, so food soon became extremely expensive, and my parents depended on help from their relatives in Vienna. It must have been very important to my father to have life in the ghetto captured on film. The Jewish photographer took pictures of everything my father told him to. My father inscribed things on some of the pictures and sent them to Vienna.
There was a communist organization called Young Austria in London, and all over England, for that matter. Young Austria had been founded by Austrian patriots, who told us that we had to return to Austria after the war and help build a democratic state. I was young, and when you're young you easily get enthusiastic about things, and that's why I returned to Austria. Most of the children who came to England stayed after the war or moved on to America, but I returned to Austria in 1946. However, I wasn't politically involved anymore in Austria.
Aunt Berta had a non-Jewish friend from her school years called Obermeier. She kept in touch with her throughout the years, and one day her friend wrote to her that she should come home quickly because our house and the shop were empty after the person who had aryanised it fled. Aunt Berta went to Prein and took over the house and shop. She was often on business in Vienna, had rented a room there for that reason, and picked me up at the railway station when I returned from England. Vienna was in a horrible state in October 1946. There was no food, no electricity and nothing else to buy. When I arrived and saw how miserable it was, Aunt Berta, who didn't have any children of her own said, 'You come with me to Prein right now and help me out in the shop.' And that's what happened. Prein was a second home to me; the atmosphere was comfortable and warm.
Although I was madly in love once in Prein, it never crossed my mind to marry a non-Jewish man. But it wasn't all that easy to meet a Jewish man! Aunt Berta had acquaintances in Vienna, and they told her that they knew a nice young man. My future husband's name was Max Tauber and he was already 31 years old.
My aunt and I met my future husband in the Mozart café behind Vienna's opera. He had just come back from England where he had visited his sister. We immediately had a wonderful time. That first meeting took place at Whitsun 1953, and we got married on New Year's Eve 1953 at the registry office in Vienna. There were many people at the wedding: Aunt Berta, Uncle Roland, Uncle Richard, Aunt Helene, my husband's parents and many, many others. Afterwards we had a big wedding party.
We have always been a very Jewish family, talked a lot about Jewish life at home and told our children our life stories - not only about the Holocaust but also about Jewish history in general. Our friends and relatives who survived the war are Jewish, too. My father-in-law came from an orthodox family and sometimes took my sons to the temple on holidays.
I've never been able to make friends with non-Jewish Austrians. Somehow I was incapable of trusting people after what had happened to my family. We only spend time with our relatives and Jewish friends.
Looking back, and not taking my husband and sons into account, I don't think I would have returned from England because Austria never became a home to me again. Even after all these years that I've spent here, I feel homeless. If someone asked me where I felt at home, the answer would be England.